Beginners Course in Woodturning
This course is aimed at the complete novice and provides a basic introduction to woodturning. The course comprises six fortnightly sessions of two hours, taking the student through a basic introduction to the lathe and woodturning, health and safety, tools and techniques. From spindle turning to bowl turning and lidded boxes. This is very much a hands-on course and students will be using the lathe from day one. The course costs £60 which includes 6 months membership of Plymouth Woodturners and the AWGB. For more information please contact us at enquiries@plymouthwoodturners.org.uk. (Gift vouchers are also available).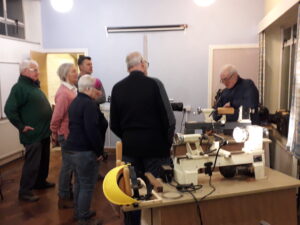 Course Outline
Session 1 Introduction to woodturning, safety at the lathe, roughing out, making beads and coves (spindle turning)
Session 2 Types of wood, sharpening techniques and more spindle turning
Session 3 Preparing wood for turning, introduction to the Face Plate and Bowl turning
Session 4 Spindle turning II: making a goblet or candle stick holder
Session 5 Designing and making fruit
Session 6 Making a lidded box (or pot)
Course sessions are run on the 2nd and 4th Friday of the month between 7:00pm and 9:00pm. (Early arrival around 6:30pm is advised to help set up)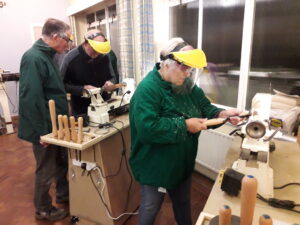 Training course dates for 2020
Following UK government guidelines we have had to take further steps to help combat the spread of Coronavirus in order to keep our members safe. As from today 18th March 2020 we are postponing ALL face-to-face club activities and events until further notice. We do not know how long this measure will need to remain in force and will notify our members of any changes by email. For others, please check our website for news updates. Note: This also includes all our training course workshops which will be put on hold until further notice. We will endeavour to re-start our training courses at a later stage with a revised schedule, once we have the all-clear to do so safely.